The Jarnoterie vineyard pays particular attention to the security of transactions. All transactions made are 100% secure. The Jarnoterie Vineyard has an SSL encryption system to protect your personal data as well as the means of payment used. We use the secure payment system of the Crédit Agricole bank.
The Jarnoterie vineyard has chosen to put in place reinforced controls of all transactions with the 3D Secure system. These additional checks guarantee the identification of the cardholder and protect you from fraud.
For an online transaction, all you have to do is pay for your purchases by credit card.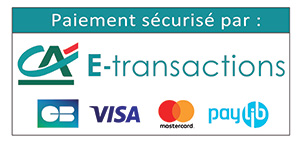 We accept all of the bank cards mentioned in the list below.
- VISA ®
- Mastercard ®
- Carte Bleue ®